blog
blog
A Team of Equals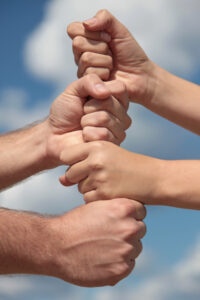 I recently returned from the Quarterly Collaborative Exchange™. This is a meeting of the EOS Implementer Community™ occurs like clockwork — you guessed it — quarterly. It is our community's Quarterly Pulsing™ session that we teach our Leadership Teams.
We have dinner together on Wednesday evening, a time to get to know each other better, celebrate our quarter, meet the newest implementers — a protracted segue if you will. And on Thursday we spend the day mastering EOS®, ensuring we are all implementing the tools purely, doing a "deep dive" into a tool each quarter to sharpen our skills, and we spend the better part of the day teeing up our issues and then solving them through IDS™. It is an invigorating event that I look forward to each quarter.
We also share nuggets we've learned. One of my colleagues shared a question he asks his Leadership Teams: "Are you a team of equals?" This is a great question that he finds leads to rich conversations.
The goal, to my way of thinking, is for every member of a Leadership Team to be able to answer the question with a resounding "Yes!" Why? Because any other answer disregards the value each person brings to the team. And any other answer is a red flag to me that one or more members of the Leadership Team are politicking.
Politicking has no place in a company that is strong in the Six Key Components™ of EOS®. When we politic we are fighting for our seat on the Accountability Chart™, or our department, or our project.
It is a Leadership Team's responsibility to harness the power of the Leadership Team and fight for the greater good of the organization.
Is there anything easier than listening to a podcast or reading a book and taking notes? Is there anything more difficult than setting aside our preconceptions and the resistance and acting "as if", being open to a belief, at least for a moment? Facts are easy to come by. Finding a new way to think and a new confidence in our choices is difficult indeed.
But that's where EOS® comes in and has the most impact. EOS® provides a foundation of teamwork, cooperation and understanding. And we build on that foundation by recognizing each person's role, and realizing that we cannot function properly without the collaboration of each individual on the Accountability Chart™. As Implementers we learn through the Six Key Components what is takes to implement EOS® in our own businesses, and we help our clients do the same.
The Six Key Components™ are further explained in the book, Traction, written by EOS® founder Gino Wickman. Chapter 1 of Traction will help you learn more about EOS®, and I invite you download it here. If you have questions and would like to talk with me about it further, please fill out the consult form below.
Whether you are a business owner who is learning EOS®, or a business owner looking for direction, I'm confident that after learning about the system, you'll understand how EOS® promotes a culture of equality and teamwork.