blog
blog
Dress Code v. Fun Socks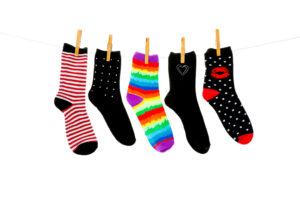 A friend of mine sent me a quote: "Don't let a dress code get in the way of fun socks." Unfortunately I do not know the source for the quote, and an online search didn't help identify the author.
I love the quote – not just because it is a bit silly and creates a great mental picture. I love the quote because it speaks to our opportunity to be authentic. And being authentic is the epitome of EOS®.
Being authentic allows us to shine as individuals, rather than trying to be someone else's definition of strong, or courageous, or talented, or a great leader, or the best business owner ever – you get the picture, right? Being authentic lets us be open and honest with the issues we need to solve to grow our company. Authenticity gives us permission to be vulnerable. Authenticity allows us to live our Core Values, make business decisions with our Leadership Team that are in line with our Core Focus™ – every day and not just when someone is watching.
Our team members and our customers want our authentic selves. They deserve our authentic selves. Authenticity is a way of life. So try on a pair of fun socks. You may feel self-conscious the first time you wear them. But with practice, self-awareness, and persistence, you will no longer worry about the dress code.
If you are looking for a company-wide operating system that allows you to wear fun socks and be your authentic self, EOS® may be your answer. The beauty of EOS® is that it can be adapted to any organization's culture – allowing you to be authentic, but still have structure, a process, and a way to be held accountable to your own success.
Choosing EOS® involves implementing the Six Key Components™, described in the book, "Traction." To help you get a solid overview of EOS and the Six Key Components™, I am providing a free download of Chapter 1 here. "Traction" was written by EOS® founder Gino Wickman, and walks you through EOS® in a clear and understandable way. But you don't have to walk the journey alone. An EOS® Implementer can help.
I am an EOS® Implementer, helping business owners experience the value EOS® can bring to an organization. I became an Implementer because I was once a business owner in need of a company-wide system, and EOS® worked for me. Now I want to help others achieve success with EOS®. If you'd like to learn more, please use the consult form below to schedule a 15-minute, no-obligation phone consultation with me. You'll discover how with EOS®, you can incorporate a dress code, be your authentic self, and still wear your fun socks.