blog
blog
Processing Through EOS, Part 1: Letting Go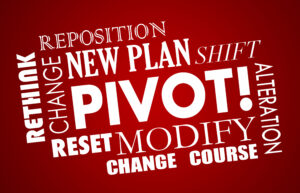 Today's blog is the first in a three-part series describing the stages organizations and their Leadership Teams go through as they implement EOS®.
I recently read Managing Transitions by William Bridges, Ph.D. and Susan Bridges. The book describes how to manage the human side of organizational change. It is the perfect explanation of what I see happening as Leadership Teams master the EOS®tools, and the responses they may receive when rolling out EOS®to their organization.
On page 5 in Managing Transitions, the authors describe three stages through which your entire team will progress as you roll out EOS®:
Stage 1 – letting go
Stage 2 – neutral zone
Stage 3 – new beginning
Today, let's discuss letting go. I challenge Leadership Teams to change their corporate behavior, to look at their company in new ways, and to fight for the greater good of the organization.
Change is never easy, and it varies person to person. For the CEO, it may mean relinquishing some of the hats that person has been wearing for many years. It may mean a new role for a team member who moves into a new seat.
It is not uncommon for Leadership Teams to notice employees who seem disinterested, or express surprise and dismay when they first hear their leaders are implementing EOS®.
Responses of this nature make perfect sense when we recognize people may feel threatened by change—they may feel they are losing their identity—that life as they know it at the company is gone.
So how do you manage this phase? Here are some suggestions for your consideration:
Accept what people say—do not debate
Give people time—your Leadership Team learned EOS®over the course of several months; be patient and give people the opportunity to learn and ask questions just as your Leadership Team did
Recognize people are reacting to what they see as a loss, not the actual change
Keep reinforcing the message—repeat, repeat, repeat
Help people understand the opportunities that will become available within the organization
Make sure each member of the Leadership Team presents the same information throughout the organization
I will leave you with a quote from page 117 in Managing Transitions: "Stability through change demands clarity about who you are and what you are trying to do. That is the starting point."
If you or a member of your organization is having trouble letting go or is resisting the EOS®process, it might be helpful to talk it through with someone who has been there. I am an EOS Implementer™, but I am also a business owner who implemented EOS®in my former company. I've walked in your shoes, and I'd be happy to share my unique perspective with you—especially when it comes to resisting change and letting go.
Please fill out the consult form below to set up a free 15-minute obligation-free phone conversation with me. I am a great sounding board, and could help you figure out the best way to let go and move your business forward with EOS®.