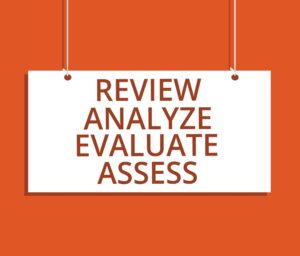 When I work with Leadership Teams, there comes a point where we meet every 90 days to evaluate the previous quarter, ensure the team is 100 percent on the same page with where they are going and how they will get there, and prepare for the next 90 days.
I have worked with a couple of Leadership Teams who question the value of evaluating the previous quarter and reviewing each section of their V/TO™ every 90 days.
The evaluation of the previous quarter starts with a review of the Leadership Team's Rocks—we are asking if each Company Rock and each Individual Rock was "done" or "not done". We then calculate the completion rate, with a goal of completing 80 percent of each quarter's Rocks.
I then open up the discussion by asking the Leadership Team four questions:
What did you do WELL?
What could you have done BETTER?
What did you LEARN?
What grade would you give the quarter?
This is where the magic happens. Leadership Teams have rich discussions around the first three questions, which prepares them to answer the fourth question. And by this point, each member of the Leadership Team usually grades the quarter within a plus or minus of each other. The end result is that the team appreciates the previous 90 days, strengthens their ability to make predictions, and creates stronger Rocks for the next 90 days.
One of the reasons EOS Implementers™ teach Leadership Teams to create a 90-Day World™ is that, as humans, we can stay focused for about 90 days, and then we lose focus. Reviewing the V/TO™ reminds the Leadership Team, and ultimately the entire company, why we are a company running on EOS®.
I read the Core Values™, Core Focus™, 10-Year Target™, Marketing Strategy, 3-Year Picture™, and the 1-Year Plan to ensure the Leadership Team is 100 percent on the same page with each section. I also ask questions to determine if they are using their V/TO as intended or is it just a piece of paper they bring to their Quarterly Pulsing Sessions. If it is the latter, then we need to have a bigger discussion.
Ultimately, I want Leadership Teams to learn from the exercises, let the previous quarter go, and move on as smarter, better, faster planners of their future. 
Becoming a better planner means you sometimes have to look back in order to move forward. And moving forward is as simple as exploring EOS® for your own business, or further refining the Six Key Components™ if you have already implemented it. Would you like to share where you are with your business and the progress you make (or wish to make) each quarter? If so, I'd love to talk with you about it. Please use the consult form below to set up a phone call with me. No obligation, no pressure and no worries. I look forward to helping you set yourself up for future success.