blog
blog
Visualizing Rocks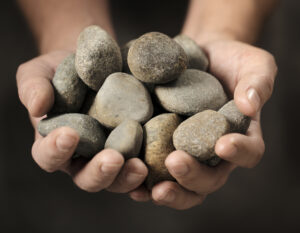 As previously stated, I learn from each of my clients, which helps me become a better EOS Implementer™. The lessons I receive from the Leadership Teams with whom I have the privilege of working also become learning experiences that I pass on to other teams. Every one of my clients has heard me say, "I have a client who . . . " followed by an idea, a nugget, a concept, etc. that I believe will bring clarity to a team and may help them move forward. So, with that introduction, I have a client who.…
During a Quarterly Pulsing™ session with one of my Leadership Teams, I walked into their conference room and on a side table there were a number of small jars, along with a medium sized cylinder and a large cylinder. I, of course, was compelled to examine this display. And what a display it was.
Each member of the Leadership Team had a jar in which they placed the number of stones representing their Rocks for the quarter. The jars were decorated, some artistically, others with the person's name simply printed on the jar. The medium sized cylinder was labeled with the end date of the current quarter. And the large cylinder was labeled with the end date of their 1-Year Plan. Oh, and there was one more unlabeled cylinder – it held a lot of sand and a scoop.
My initial thought was this was a clever way to visually illustrate their Rocks. This was in keeping with these leaders of an award winning e-learning company. The magic for me occurred at our session.
As I read each Company and Individual Rock, the owner moved the Rocks that were "done" from their jar to the current quarter cylinder. Rocks that were "not done" remained in that person's jar. After we determined the team's Rock completion rate, each team member reviewed the shiny stuff, the unexpected projects, and anything else that impacted their ability to focus on their Rocks during the quarter. As they described those events, they added a scoop of sand to the current quarter cylinder, eventually covering all the stones. When the team finished reviewing all the Rocks, the Integrator moved the "done" Rocks to the 1-Year Plan cylinder.
This exercise provided the Leadership Team an opportunity to review, discuss and celebrate their quarter in a memorable way. Listening to this animated team be open and honest with each other, be vulnerable with each other, and celebrate together made my brain dance.
I'd love the opportunity to talk with you about your individual and company Rocks, the progress you are making with them, and whether you'd be able to move your Rocks from one cylinder to another. I invite you to use the contact form below to schedule a free 15-minute phone call with me. Whether you use EOS®in your business or not, have identified Rocks or not, or just want to talk about moving your business to the next level, I'm game for a conversation. I used EOS®in my former business, so I'm a strong believer in the process. No pressure of course, but if you are ready to make some serious progress in your business, EOS®is a great option to get you there. I look forward to helping you visualize your Rocks and move them to completion.