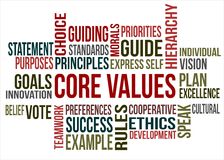 We all have values that define who we are. They serve as a baseline for the decisions we make, the actions we take, and the people we surround ourselves with.
Values – such as honesty, discipline, family or religion – guide us. Serve as our moral compass. Help us to establish priorities. Our values are the foundation for which we build our lives. Our values remain constant; how we practice or exhibit them may change as we mature.
Just as you have values in your personal life, you also need to clearly define your guiding principles in your business.
The Entrepreneurial Operating System ™ (EOS) refers to these guiding principles as your organization's Core Values. Jim Collins and Jerry Porras identified core ideology as one of the primary differentiators of great companies in their book Built to Last.
Why Your Business Needs Core Values
Having a clear set of Core Values is the first step in establishing your organization's Vision. Core Values identify who you are as a company, and offer guidelines and principles that help you run your business.
Establishing your business's Core Values is not just a matter of sitting down with a piece of paper for a 15 minute brainstorming session. Defining your company's core values is not a staff team project. EOS recommends a more systematic approach, which involves a series of four steps taken during an offsite meeting with your key management team. Core Values steer the direction of your company, so they should not be complicated or overwhelming. We help businesses identify between three and seven Core Values.
Examples of Core Values
Core Values should be specific, but have a "big picture" feel. Some examples of real-world Core Values are:
Honesty & Integrity
Growth-Oriented
Committed
Encourages Teamwork
Compassion
Accountability
Strives for Perfection
Attention to Detail
Benefits of Core Values for Your Business
Taking the time to identify your organization's Core Values has many advantages. Core Values will:
define your culture. Your core values will set the tone of your organization. They will be the underlying foundation and character of your business and the people in it.
change the way you do business. When you have a solid foundation, everything else falls in to place. It gives you a standard to hold to, and helps you operate more efficiently.
attract like-minded people to your organization. When you have a clear set of values, potential employees and customers who have the same values will recognize them and seek you out.
weed out employees who are not a fit. Adhering to your core values will quickly identify who in your organization is not on board. Whether they leave on their own or are helped out the door, you will have an opportunity to fill the position with someone who shares in and believes in your values.
dictate how you review, reward and recognize your employees. Your employees will know what is required and have a clearer understanding of your expectations. Core Values give you a measurable standard, and make it easier for you to show appreciation and recognition to your support team.
If your business has not firmly established its set of Core Values yet, don't worry. They probably already exist; they are just lost or buried in the day-to-day chaos of your business. If you look hard enough, you will find them.
Are you ready to identify your business's Core Values? If you need guidance or assistance, we can help.
About EOS
EOS is a holistic management system with simple tools that help you do three things we call vision, traction, healthy. Vision from the standpoint of first getting your leaders 100% on the same page with where your organization is going. Traction from the standpoint of helping your leaders to become more disciplined and accountable, executing really well to achieve every part of your vision. Healthy meaning helping your leaders to become a healthy, functional, cohesive leadership team.