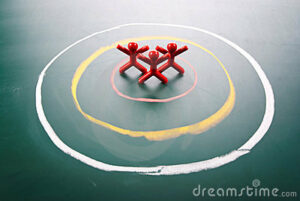 The success of your business relies heavily on the cohesiveness of your team. We need the right people – our directors, managers, visionaries, and line staff – to make all the pieces come together and accomplish our vision. Rarely can we go it alone.
Determining the right people for your organization is a challenge that business owners have faced for decades. But it's one of the most important steps you can take in building a successful business.
It may seem like the chances of hiring an employee with the perfect combination of attitude and job experience are a shot in the dark. But the Entrepreneurial Operating System™ has a set of tools that can help provide clarity and direction when finding the right people for your organization.
The People Analyzer Tool
To help identify the right people for an organization, EOS introduces the People Analyzer tool in the second of its six components.
The right people are those that share in the organization's Core Values.
The People Analyzer tool is a visual representation of your Core Values, and will help you clarify whether or not your employees fit into your culture.
To use the People Analyzer tool, write each employee's name down the left side. Then write each of your Core Values along the top. Your management team can work together to determine to what degree each of your employees supports each core value. You will rate each employee using one of three symbols:
+          the employee exhibits the core value most of the time
+/-      the employee exhibits the core value some of the time
–           the employee does not exhibit the core value
The right people are those employees that are rated with + or +/-. If an employee is rated with a – , he or she may not be right for your organization.
Establishing whether or not you have the right people can be a difficult process. If an employee does not support or exemplify your Core Values, it does not mean that he or she is wrong or not a good person. It simply means that he or she is not a good fit for your organization. And having a strong, supportive group of employees who back your organization's Core Values is imperative for the future growth of your company.
Why the Right People are Important
To help illustrate the importance of having the right people in your organization, I'd like to share a personal experience with you.
I am originally from the East Coast and spent much of my free time backpacking and mountain climbing in New Hampshire's White Mountains. At some point I decided to apply for membership in the Appalachian Mountain Club, which I achieved in 1970. 
I joined the club at a time when new members were required to provide three recommendations from members in good standing. I spent considerable time hanging out at the AMC Pinkham Notch base camp getting to know people, hoping they would be there the next time I visited so I could strengthen relationships. 
The purpose of the recommendations was to ensure the AMC admitted people who shared their vision for the mountains and the environment – people who would uphold their philosophy, protect the mountains, and support their efforts.  In other words, people who shared their Core Values. It was a powerful message and helped me recognize I had found a place where I could contribute and thrive as an environmentalist. I remain a proud member of the AMC to this day.
Do you have the right people for your organization? If you need assistance in making that determination, we can help.
About EOS
EOS is a holistic management system with simple tools that help you do three things we call vision, traction, healthy. Vision from the standpoint of first getting your leaders 100% on the same page with where your organization is going. Traction from the standpoint of helping your leaders to become more disciplined and accountable, executing really well to achieve every part of your vision. Healthy meaning helping your leaders to become a healthy, functional, cohesive leadership team.