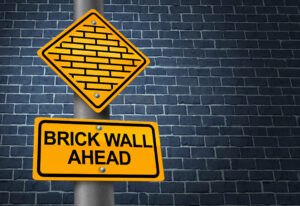 Every company hits the ceiling now and again. It's that feeling of being stuck, not sure what to do next, where to turn. To make matters worse, departments will hit the ceiling periodically — marketing is knocking it out of the park every day, but operations is struggling to meet daily production quotas. Individuals may also experience the same phenomena. You may find yourself sitting in your office not quite sure what to do next. Something doesn't feel right, but you just can't put your finger on it.
I hear this all the time from the leadership teams with which I have the honor of working. I've experienced it many times myself — and within my former companies. Hitting the ceiling just makes us normal.
So what do we do when this happens? Wait it out? Quit? Look for some fairy dust to make the world right again? Well, you could. Or, you could master EOS®'s Five Leadership Abilities™ so that you break through the ceiling any time you hit it. The Five Leadership Abilities™ are:
Incorporate these Five Leadership Abilities™ into your organization and practice them every day. If you do, you will know when you have hit the ceiling, and you will break through it every time.
The Five Leadership Abilities™ is explained in further detail in the book Traction, written by EOS® Founder Gino Wickman. Chapter by chapter, the book effectively walks you through the Six Key Components™ to implementing EOS® in your organization. I invite you to download chapter 1 of Traction for free, as it summarizes the components and gives you a solid overview of what the book is about.
The concept of hitting the ceiling is introduced early in Chapter 2, as this is a common stumbling block for most business owners. The book gives you a more in-depth description of the Five Leadership Abilities™ you need in order to break through the ceiling and grow your business to the next level.
You don't have to walk this journey alone. I am a certified EOS® Implementer, and if you decide to implement EOS® in your organization, I will be by your side through the entire process.
If you'd like to learn more about EOS® or how to break through the ceiling, please fill out the consultation form below to request a 15-minute phone call with me. I don't believe in high-pressure sales that make both of us uncomfortable, so there is no obligation to continue after our call. I once walked in your shoes as a business owner, and EOS® worked for my company and me. So I am excited to help others if together we determine that EOS® is the right fit for you and your company.
Let's schedule a convenient time to talk about your challenges and how EOS® may be the answer to overcoming them.