blog
blog
One Size Does Not Fit All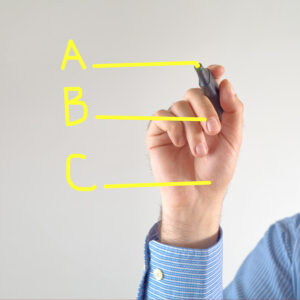 I sometimes meet business owners who wonder how best to move their companies to the next level. Their business just doesn't feel right. Perhaps they have concerns about the company as a whole. They also may have identified issues with one or more departments or with specific individuals. So they want to know the best way to resolve all of their concerns.
There really isn't a one-size-fits-all answer to their question. In truth, there is a range of professional support services available to help business owners get what they want from their business.
If the focus is on personal growth, then an individual coach can help people gain confidence, or understand their leadership behavior, or help create personal awareness. A coach can also work with a team to help them improve their communication process, or develop empathy, or create trust. Most of us can benefit from a business coach – it is very difficult to see yourself play the game, so to speak. As a former technical rock climber, my coach would see gaps in my technique long before I realized the gaps existed, and he offered great tips on how to overcome those gaps. His coaching helped me improve my skill level, avoid injury, and helped me scale bigger and better walls over time.
If the focus is on entrepreneurship, then a peer-to-peer group can serve as a business advisory board, often providing examples of business best practices. Peer-to-peer groups are commonly organized around corporate structure – i.e.: CEOs, CIOs, or CFOs.
Also within the realm of entrepreneurship is the ability to implement a company-wide operating system that creates greater accountability and a shared vision, which is exactly what EOS® does. EOS® Implementers recognize you cannot run your company on multiple operating systems. Doing so leads to confusion, every department doing things their own way, with customers receiving less than the best possible service from your company.
Many of my clients use all these resources to strengthen their companies and their teams. They recognize the value each approach adds – these are collaborative approaches and not at all competitive. Which tactics will help you and your team?
If you are looking for a company-wide operating system, I encourage you to learn more about EOS® by reading Gino Wickman's book, "Traction." As the EOS® founder, Gino systematically guides his readers through what he refers to as the Six Key Components™ to implementing EOS® in your organization. Separated by chapters, each Component is thoroughly explained, and includes all of the tools and resources that support that particular Component.
I invite you to download chapter 1 of "Traction," which includes the table of contents and introduction. This will give you an overview of EOS® and a better understanding how the book is laid out and organized.
As an EOS® Implementer, my job is to help you through the EOS® process should you decide it's right for you. And I'd like to help you make that determination by inviting you to a 15-minute phone conversation using the consult form below. There is no pressure to commit to EOS® as a result of our phone call. I simply want to learn what your business needs and how EOS® may be able to help.
Let's schedule a time to talk about EOS® as a possible company-wide operating system for your business.