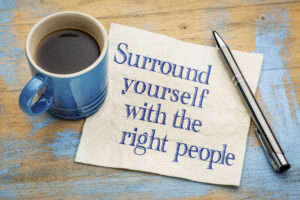 I have written a number of blogs about having the Right People in the Right Seats in your company.
As you recall, Right People are the people who share your Core Values. They understand your company culture and they practice and exhibit your company's Core Values throughout the day. Right People are the folks who understand their seat on your Accountability Chart™ and how their seat contributes to the company's work. In other words, they "get it", they "want it", and they "have the capability" to be a rock star in their seat.
Once a company discovers their Core Values, they need to hire, review, reward, promote, and fire based on those Core Values. A question I'm frequently asked is how do you hire for Core Values?
My answer to a Leadership Team is that they need to get together and identify what interview questions will demonstrate if a prospective employee shares their culture. The questions can then be used regardless of what seat a company is filling. So where do you start? Here are some considerations:
Identify a question for each Core Value. If you have 5 Core Values, that's 5 questions.
Ask behavior-oriented questions – they usually begin with a statement, i.e.: Tell me about a time when . . .
Customize the question by introducing an activity specific to the Core Value, i.e.: . . . when you had to manage an irate customer.
You can also add filters to increase the difficulty of the question, for example . . . and you thought the customer was unreasonable in their expectation.
Listen for answers that downplay the importance of your question, or if the individual doesn't really address your question, or if they are defensive about how they responded to an example they are sharing.
You may even want to identify what an interviewer should "listen for" when asking each question.
It is far better to determine an applicant is not the Right Person for your company prior to adding them to the team. Creating the questions takes some time; however, you will save time, avoid or at least mitigate issues at a later time, and make everyone's job easier because you now have the Right Person in the Right Seat.
If you'd like to learn more about hiring the Right Person for the Right Seat or need a jump-start in writing these questions, please fill out the consult form below to request a free, 15-minute phone consultation with me. I experienced the effectiveness of EOS®when I implemented it in my former company years ago. I know first hand it's a process that works when you commit to the journey. I look forward to talking with you about EOS®, your company's Core Values, and the importance of getting the Right People in the Right Seats.